If you have been using only e-cigarette liquid in your vaporizer so far, it is worth changing. You can use different aromatherapy blends. Check which herbs are suitable for vaporization.
Basil
If you have stomach problems, it is worth inhaling basil. Its soothing aroma will help you relax, and the volatile compounds released during vaporization further relax and improve your mood. Basil can also alleviate cold and flu symptoms. It is worth using in the morning and afternoon. It contains linalool, which is a terpene present in various varieties of hemp. It evaporates at a temperature of 130 ͦ C.
Basil can also help with menstrual disorders, indigestion and constipation. Additionally, it improves mood, so it is recommended for people suffering from anxiety neurosis or depression.
Damiana
Damiana is a shrub native to Mexico that will give your blend a strong aroma. It is believed to be the main ingredient in the original margarita recipe. It has beautiful yellow flowers, but it is the leaves that contain the active ingredients that damiana is famous for. It acts as an aphrodisiac. It can also sedate and induce a mild intoxicated feeling. It evaporates at 190 ͦ C.
Valerian
Valerian is known for its sedative properties. The active ingredients are found in its roots. Vaporizing this herb produces much stronger effects than taking it in pill or tincture form. It blends very well with lemon balm, hops, passion fruit and yarmulke. It evaporates at 200 ͦ C.
Lavender
If you want to relax, think about lavender. It also treats ailments such as insomnia and depression. Additionally, it has antiseptic and antibacterial properties. It is famous for its wonderful taste and aroma. Experts recommend vaporizing lavender at about 125 ͦ C.
Melissa
Among aromatherapy enthusiasts, lemon balm is known for its great taste/smell and calming effects. The clean, distinct citrus aroma is refreshing but not overwhelming. It is a good choice if you want to relax at the end of a long, tiring day. You can confidently mix it with other herbs such as hops, valerian and chamomile. Remember to vaporize it at 140 ͦ C.
Eucalyptus
Also look out for eucalyptus, which helps you de-stress after a hard day. Additionally, it has antibacterial, antiviral, antifungal and antiseptic properties. You can also use it for cold and flu. It also strengthens the immune system and soothes a sore throat. It evaporates best at 130 ͦ C.
Catnip
Catnip is wonderfully stress relieving and calming, so it is worth using after a hard day. The antipyretic effect of the herb will be useful in case of cold or flu. It is also recommended for people suffering from insomnia. The optimal vaporization temperature is 135 ͦ C.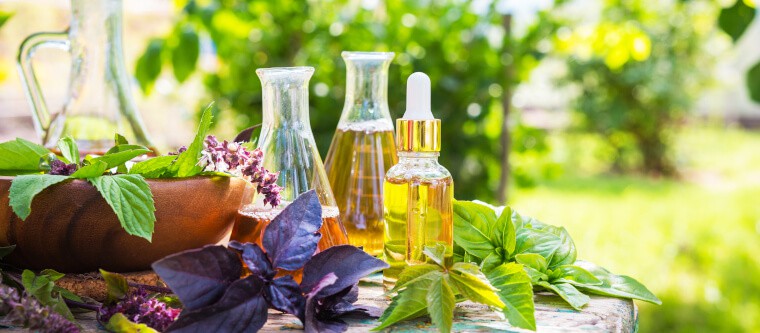 St. John's Wort
St. John's wort is another popular antidepressant. Experts say it has strong sedative and anti-inflammatory properties when vaporized. It also relieves anxiety and helps you sleep. Additionally, it has antibacterial and antiviral properties, so it supports the body in fighting germs. You can vaporize it at 135 ͦ C.
Chamomile
This is another herb popularly used in natural medicine. It grows wild in western Asia and Europe. Chamomile relieves anxiety, depression, stress, headache and indigestion. You can combine it with other relaxing herbs such as lemon balm or lavender. It evaporates best at 190 ͦ C.
Hops
Most often associated with beer, but its flowers are rich in terpenes. It can be a great addition to an aromatherapy blend, bringing a unique flavor and aroma to it. Vaporizing hops produces a mild euphoric feeling. You can vaporize it at 160 ͦ C.
Green tea
Interestingly, it is well suited for vaporizers because its effects are better and faster than those of drinking tea. It contains caffeine, so avoid it late in the evening. Green tea relieves symptoms of depression and aches and pains. It contains a huge range of flavonols and polyphenols. Additionally, it tastes great. Remember to vaporize it at 180 ͦ C.
Ginseng
You will find it in many energy drinks, which may suggest what properties it has. It eliminates weakness and fatigue. It adds energy, increases stamina, and improves libido. It can also lower sugar and cholesterol levels. It evaporates best at temperatures up to 200 ͦ C.